Shababeek – Lebanese Restaurant, Sharjah
Hi everybody! How are you? I hope you all are fine. We are fine here, and the weather also great. Still hot but not so much..
The situation in this world is not so good. There're still war in some countries, and crisis are everywhere. It's very sad to think about that. I hope the situation will get better soon. Let's pray together and start to make peace with the people near you..hope from something small can create a peace world.
In these days I was updating some older posts of Ada Indonesia. I realize that we shared only a few posts about UAE. That's way now I want to share our experienced when we ate in Sharjah, UAE.
This name of the restaurant is Shababeek – Lebanese Restaurant, Sharjah. This restaurant serves authentic lebanese food with the interior of arabic decoration. It's good to have a meal here with someone you love, but also nice to bring your family here.
Shababeek
Block 'B', Big Wheel Side
Al Qasba, Sharjah, UAE
Open everyday from 12.00 – 23.30
Telp. +971 6 5540444 Fax. +971 6 5540222
E-mail: info@shababeek.ae / rm@shababeek.ae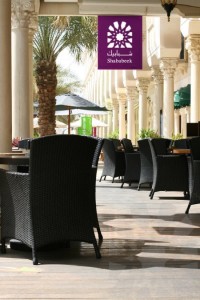 Menu Category:
Soup & Salads, Cold Mezza, Hot Mezza, Lebanese Delicacies, Sandwiches & Saj, Charcoal Grill, Main Dish, Dessert & Ice Cream, Beverages.
They also accept order for catering services for you to enjoy their delicious food on your special event, with range of people from 20 – 300 persons.
Catering contacts:
Telp. +971 6 5540444
catering@shababeek.ae
The food is very delicious, and the enviroment is tranquil and romantic.This restaurant is located inside Al Qasba. Al Qasba is a destination for local people, tourist, or even working people (like me). It's offering restaurant, leisure, culture, and entertainment. It's nice to go there at night, so you can see a lot of lights from the "Big Wheel".
We hope that you can have the opportunities to visit Shababeek Restaurant and of course Al Qasba. Thank you for visiting our website. We love to hear from you, so please leave your comment down bellow.
Don't forget to like us on Facebook and follow us on Instagram, or Google+, and subscribe to our channel in YouTube A.siaVlog so you will receive a notification of our new post. If you want to share any good recipe or information, do not hesitate to write to us. We will publish it on behalf of your name.
Have a wonderful day, and take care! We'll see you again in our next post. Tetap di Ada Indonesia…see you soon!