Tortilla (Spanish Omelette)
Hello..Hola..Halo!! Que tal? (How are you in Spanish). I hope you are all fine 🙂
In this article, I want to share my first Spanish Dish..the name of this dish is "TORTILLA DE PATATA". Tortilla is an omelette (Spanish omellette), that has potatoes inside. In this recipe, I only share the basic ingredients. But you can find a lot of variation of filling out there.
You can serve tortilla in many ways..as a main dish, appetizer, sandwich, or even finger food (if you have party at home). I really hope that this recipe can help you to make a nice tortilla for your family & friends.
So, let's go to the kitchen everybody!!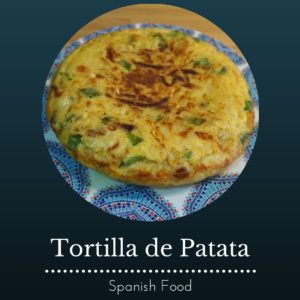 Preparation Time: 10 minutes
Cooking Time: 10 minutes
Serves: 2 servings
Ingredients:
3 – Eggs
3 – Potatoes
1/2 – Onion
1 – Paprika
1,5 tsp – Salt
Pepper
Olive Oil (to fry)
Sugar (optional)
Preparations:
Add olive oil to a frying pan and turn on the stove on medium heat.
Slice the onion thinly & fry until it's caramelized.
Peel the potatoes & cut into 4 pieces, then slice thinly around 1/2 cm.
After that, fry together with the onions until the potatoes are tender (around 10-15 minutes).
While waiting, cut the paprika into diced.
When the potatoes is almost cook, crack the eggs into a bowl and add the paprika into the bowl. Mix well.
Then drain the potatoes & onion from the oil. Add into the egg mixture.
Season with salt & pepper and mix well. Let it rest for about 5 minutes.
Heat a round frying pan on high heat, and add a little bit of oil. Then add the tortilla mixture into the frying pan.
Cook with high heat for 1 minute, then reduce the heat into medium and continue cooking for 4 minutes.
Then turn the tortilla. Cook again with high heat for 1 minute, and reduce the heat into medium and continue cooking for 4 minutes.
Tortilla is ready to serve while it's hot. Happy cooking!!
You can add also bacon / chorizo (spanish sausage), or any ham that you like.We hope that you like this recipe. Thank you for visiting our website. We love to hear from you, so please leave your comment down bellow.
Don't forget to like us on Facebook and follow us on Instagram, or Google+ and SUBSCRIBE to our channel A.siaVlog so you will receive a notification of our new posts & new videos. If you want to share any good recipe or information, do not hesitate to write to us. We will publish it on behalf of your name.
Enjoy this recipe, and take care! We'll see you again in our next post & video. Tetap di Ada Indonesia…see you soon!