Risotto con Salsiccia (Italian Sausage)
Hello guys! How's the winter in your place?
In this cold weather, I want to share to you a recipe that is good to eat in this winter time. The name of today's recipe is RISOTTO CON SALSICCIA (ITALIAN SAUSAGE). Risotto is a northern italian rice dish cook in a broth to a creamy consistency. I hope you try &  like this recipe and I hope that you can find all the ingredients in the supermarket where you live.
So, without further a do, let's go to the kitchen…
RISOTTO CON SALSICCIA (ITALIAN SAUSAGE)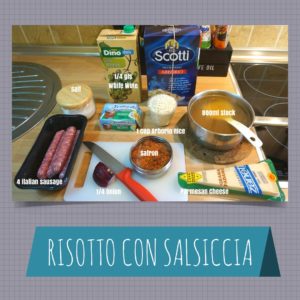 Preparation Time: 5 minutes
Cooking Time: 20 minutes
Serves: 2 servings
Ingredients:
1 cup – Arborio / Carnaroli Rice
4 – Italian sausage
1/4 – Onion
800 ml – Beef Stock
1/4 cup – White Wine
30 gr – Parmessan Cheese
Saffron
Salt, Pepper, Olive Oil
Butter (optional)
Preparations:
Heat your beef stock in a pot (if you don't have the fresh stock, you can use instant stock), then chop the onion & italian sausage.
Turn on the pot & stir-fry the onion with a little bit of olive oil until perfumed, then add the sausage & add a little bit of salt. Stir-fry until the sausage changed it's color.
After that, add the rice & stir-fry again around 2 minutes or until the outer part of the rice becomes transparant.
Then put the stove on high heat & add the white wine. Stir until the alcohol is evaporated.
Next, you can add the stock a little at a time, and stir it occasionally.
When the stock is absorbed, add the stock again & repeat the process until the rice is cooked.
While waiting, take some saffron & put it into a bowl & add some hot stock or hot water. Stir & set it aside.
In a half way until the risotto is cook, add the saffron & season the risotto with a little bit of salt & pepper.
When the rice is cooked (make sure the rice is not overcook, it should have it's texture when you bite it, but not hard), add the butter & cheese. Mix well.
Taste & adjust as you like. Then turn off the stove, then close with a lid and let it rest for about 2 minutes before you serve it on a plate. Happy cooking!!
We hope that you like this recipe. Thank you for visiting our website. We love to hear from you, so please leave your comment down bellow.
Don't forget to like us on Facebook and follow us on Instagram, or Google+ and SUBSCRIBE to our channel A.siaVlog so you will receive a notification of our new posts & new videos. If you want to share any good recipe or information, do not hesitate to write to us. We will publish it on behalf of your name.
Enjoy this recipe, and take care! We'll see you again in our next post & video. Tetap di Ada Indonesia…see you soon!