Vegetable Quiche
Hola todo!! Que tal? Espero que todo bien…
After one delicious dessert last week (Apple Pie), today we want to share another delicious food from France. The name of this dish is Quiche. Quiche is a savory, open-faced pastry crust with a filling of savory custard with cheese, meat, seafood, or vegetables. Actually this recipe is not the original recipe of Quiche Lorraine, it's been modified a little bit…but anyway it's still taste delicious.
OK…let's start cooking!
Quiche with Bacon and Vegetables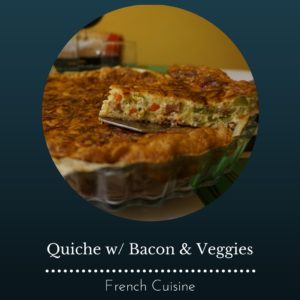 Preparations: 15 minutes
Cooking Times: 50 minutes
Serves: 4 persons
Ingredients:
3 – carrot
1 – zucchini
3 cloves – garlic
1/4 – onion
4 – eggs
30 gr – peas
30 gr – bacon / 3 – sausages
200 ml – fresh cream
30 gr – parmessan cheese
grated cheese
oil for stir-fry
salt, pepper, nutmeg
puff pastry / pie crust
Preparation:
Cut all the vegetables into dice and chopped the onion & garlic.

Heat pan and saute onion with oil,  then put all vegetables into pan from the hardest, and stir-fry every vegetable for 1- 2 minutes
Season with salt & pepper. Turn off the stove & set it aside.
Beat fresh cream and eggs in a bowl, after that put parmessan cheese, nutmeg, and sauted vegetables and mix well.
Put the puff pastry on a baking pan, which has been lined with parchment paper.
Pierce the bottom with the fork, then pour the filling.
Finally fold the edge and sprinkle with grated cheese.
Baked at 180 degree for about 50 minutes & 5 more minutes with top fire to make the surface golden brown.
Bon appetit!
You can serve it hot or cold. Quiche is part of French Cuisine, but it's also popular in other countries, particularly as a party food.Thank you for visiting our website. We love to hear from you, so please leave your comment down bellow.
Don't forget to like us on Facebook and follow us on Instagram, or Google+ so you will receive a notification of our new post. If you want to share any good recipe or information, do not hesitate to write to us. We will publish it on behalf of your name.
Enjoy this recipe, and take care! We'll see you again in our next post. Tetap di Ada Indonesia…see you soon!