Pollo en Salmorejo
Hola! Que tal?
It's how the spanish people greeting each other. It's mean Hi! How are you? As you can see in the title and maybe you already watch also the video above..today I want to share a spanish recipe. The name of this dish is Pollo en Salmorejo means Chicken in Salmorejo Sauce. This dish is originally from Tenerife (do you know where is Tenerife?) Tenerife is one of the island in the Canary Islands. You can go and check the map if you are curious…but don't forget to zoom, because the islans is so tiny. Hehehe 🙂
So guys, without further a do let's go to the kitchen and start cooking…
POLLO EN SALMOREJO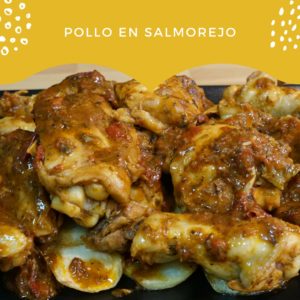 Preparation Time: min 30 minutes
Cooking Time: 55 minutes
Portion: 3 servings
Ingredients:
1 – Chicken
3 – Potatoes
1 – Paprika
1 – Bay leaf
3 cloves – Garlics
1/2 cup – White wine
1 tsp – Oregano
1 tsp – Parsley
1 tsp – Thyme
1 tsp – Cumin
1 tsp – Paprika powder
2 tbsp – Vinegar
2 tbsp – Olive oil
Salt & Pepper
How to make:
First thing to do is make the past to marinate the chicken. So in a mortar (you can use also food processor) add paprika, garlic, parsley, thyme, cumin, parika powder, vinegar & olive oil. Grind all together until it becomes a paste.
After that put the paste into a mixing bowl, add bay leaf and chicken. Mix well until the chicken is coated with the paste and set it aside. Marinate the chicken for minimum 30 minutes (it's better if you marinate it over night).
While marinating the chicken, let's prepare the potato. Cut the potatoes into round shape (around 1-2 cm thickness), and deep fry the potatoes until it's golden brown.
After 30 minutes, seared both sides of the chicken in a pan (without the paste). Then next step, add the white wine (don't forget to use high flame) and cook until all the alcohol is evaporated.
Next add the remaining paste into the pan and add some water (around 200-300 ml), adjust the flame into medium heat and cook the chicken until the sauce is thickened and the chicken is cooked through.
Arrange the potatoes on a plate and add the Pollo en Salmorejo on the top of the potatoes, serve it while it's hot. Selamat makan!
It's good also to eat with hot steam rice, and eat it with your hand. Yum!We hope that you like this recipe. Thank you for visiting our website. We love to hear from you, so please leave your comment down below.
Don't forget to like us on Facebook and follow us on Instagram, or Google+ and SUBSCRIBE to our channel A.siaVlog so you will receive a notification of our new posts & new videos. If you want to share any good recipe or information, do not hesitate to write to us. We will publish it on behalf of your name.
Enjoy this recipe, and take care! We'll see you again in our next post & video. Tetap di Ada Indonesia…see you soon!