No Mixer Banana Cake
Halo…hola!! How's your day guys?? Hope you have a great day…. 🙂
After a lot of savory recipes that I posted in Ada Indonesia, I think it's time to share a dessert recipe. Today's recipe is a recipe of Banana Cake. This is one of my favorite dessert recipe, because it's easy to make. You don't need a mixer & if you have a very ripe banana that is unpleasant to eat because it's mushy, if you make that banana into this cake..it's like you give that banana a second life. The cake even taste better with that over ripe banana (is that the right term to say banana that is too ripe? hehehe…sorry for my english, but I think you know what I mean 🙂 )
OK! Don't want to talk any longer, let's go to the kitchen!
NO MIXER BANANA CAKE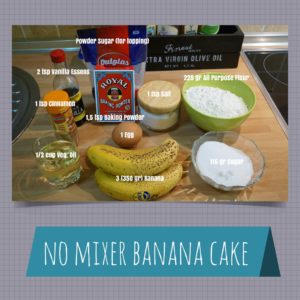 Preparation Time: 5 minutes
Cooking Time: 55 minutes
Ingredients:
350 gr (3 pcs) – Banana
225 gr – All purpose flour
1 tsp – Salt
1,5 tsp – Baking Powder
1 tsp – Cinnamon Powder
115 gr – Sugar
1 – Egg
1/2 cup – Vegetable Oil (Sun Flower Oil)
2 tsp – Vanilla Esence
Preparations:
First step, pre-heat the oven at 180°C & coat the baking pan with butter. Set it aside.
Shift the flour & mix all dry ingredients in a bowl (flour, sugar, salt, cinnamon powder, baking powder).
Peel bananas & mash with the fork, the add the oil. Mix well.
After that, add the egg & vanilla essence. Mix well again.
Last thing to do, put the banana mixture into the dry ingredients. Mix well (watch the video for the important tips).
Add the cake mixture into the baking pan, then bake in the oven at 180°C for 50-55 minutes.
When the cake is fully baked, take it out from the oven and let it cool down a little bit before you sprinkle with sugar powder. Happy cooking!
Bananas are a great dietary source of potassium. A potassium-rich diet can help lower blood pressure, and people who eat plenty of potassium have up to a 27% lower risk of heart diseaseWe hope that you like this recipe. Thank you for visiting our website. We love to hear from you, so please leave your comment down bellow.
Don't forget to like us on Facebook and follow us on Instagram, or Google+ and SUBSCRIBE to our channel A.siaVlog so you will receive a notification of our new posts & new videos. If you want to share any good recipe or information, do not hesitate to write to us. We will publish it on behalf of your name.
Enjoy this recipe, and take care! We'll see you again in our next post & video. Tetap di Ada Indonesia…see you soon!