Martabak Mie (Noodle Pancake)
Halo semua!! Welcome back to our website… 🙂
Today's recipe is about noodles. Everybody knows that Asian people like to eat noodles. In this recipe, I will show you another way to eat noodles. This recipe is a childhood food for me. It makes me feel nostalgia, especially if I eat it in the morning for breakfast. Yummie…!! 🙂 I'm sure you will like it also, if you willing to try it at home.
Feel curious?? Let's go to kitchen…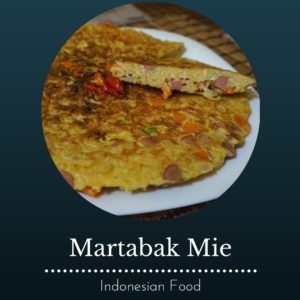 Preparation Time: 10 minutes
Cooking Time: 10 minutes
Serves: 2 servings
Ingredients:
2 – Instant Noodles
3 – Eggs
2 – Sausages
2 stalks – Spring Onions
1/4 – Onion
1 – Carrot
Oil
How to make:
Boil the noodles, following the instruction on the package).
Meanwhile, cut the vegetables & sausaged into small dice & put them in a bowl.
Then crack the eggs into a bowl, add the noodles seasoning (if you like salty add all seasong, otherwise you can use 1,5 package), mix well.
When the noodles is cooked, strain the water & add into the egg mixture.
Turn on the stove & add oil into the pan.
When it's hot, add the noodles & make it flat. Put the lid on (so it will cook the inside also), & cook with med-high heat for 5 minutes (until the bottom side is brown).
After 5 minutes, turn it upside down, and cook again for another 5 minutes.
When it's done, serve it on a plate with hot sauce that you like. Happy cooking!!
We hope that you like this recipe. Thank you for visiting our website. We love to hear from you, so please leave your comment down bellow.
Don't forget to like us on Facebook and follow us on Instagram, or Google+ and SUBSCRIBE to our channel A.siaVlog so you will receive a notification of our new posts & new videos. If you want to share any good recipe or information, do not hesitate to write to us. We will publish it on behalf of your name.
Enjoy this recipe, and take care! We'll see you again in our next post & video. Tetap di Ada Indonesia…see you soon!