Kale in Curry Sauce
Hi guys!!
It's been a long time, since the last time I wrote in this website. Sorry! A lot of things going on, and we went also to Indonesia for 2 months and so on. Anyway don't want to waste your time with my excuse..today I want to share an Indonesian Recipe. It's based on the recipe of "Gulai Daun Singkong", but I subtitude the Cassava Leaves into Kale. It's because I cannot find Cassava Leaves here in Tenerife, Spain (poor of me) 🙁
This recipe is a simple recipe and you can make it into Vegan or Vegetarian Dish also. Just remove the dried anchovies and you're good to go. The ingredients also very easy to find. It's healthy and rich of fiber, that is good for your tummy 🙂
So, let's go to the kitchen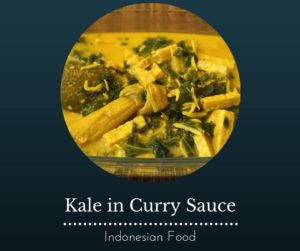 Preparation Times: 5 minutes

Cooking Times: 15 minutes

Serve: 3-4 people



Ingredients:
350 gr – Kale
400 ml – Water
100 ml – Coconut Milk
1/4 cup – Dried Anchovies
100 gr – Tempe
1 – Lemon Grass
1 – Bay Leave
3 slices – Galangal
3 – Kafir Lime Leaves
Salt
Sugar (optional)
For the paste:
4 – Chilies
2 – Candle Nuts
1,5 tsp – Turmeric Powder
1,5 tsp – Corriander Seed Powder
1/4 – Bw. Bombay
3 cloves – Garlic
Preparations:
1. Boil some water in a pot, and cook the kale for 3 minutes.
2. Meanwhile, grind all the ingredients for the paste.
3. Crush the lemongrass & remove the bon leaves from kafir lime leaves and tear, then cut tempe into rectangular around 3 cm in length.
4. After 3 minutes, drain the kale and set it aside.
5. Add some oil into the wok, and stir fry the paste with lemon grass, galangal, bay leaves, & kafir lime leaves.
6. After 3-4 minutes and it's fragrant, add water & coconut oil. Stir well, then add also dried anchovies & tempe. Cook until it's boil.
8. Don't forget to season with salt & a little bit of sugar (if you like)
7. When it's boil, add the kale. Mix well and cook for another 5 minutes.
8. Kale in Curry Sauce is ready to serve with hot steam rice. Happy Cooking!!
 If you cannot find tempe, no problem. You can also subtitude dried anchovy with dried shrimp or bamboo shoot. Don't forget that you can veganize this recipe 🙂  We hope that you like this recipe. Thank you for visiting our website. We love to hear from you, so please leave your comment down bellow.
Don't forget to like us on Facebook and follow us on Instagram, or Google+ and subscribe to our channel A.siaVlog so you will receive a notification of our new post. If you want to share any good recipe or information, do not hesitate to write to us. We will publish it on behalf of your name.
Enjoy this recipe, and take care! We'll see you again in our next post & video. Tetap di Ada Indonesia…see you soon!