Gnocchi di Patate (Potato Gnocchi)
Hi everyone…thanks for visiting Ada Indonesia and give your like in our Facebook and Instagram page. We  really appreciate it and it makes us want to share more with you. We want to say sorry and send our condolence to the victim of earthquake that happened in Nepal. Hope God will bless the people that still alive and receive the soul of the dead victim in His heaven.
Today we want to share to you a simple yet delicious recipe. This is the basic Gnocchi made from potato. This Italian food is a substitute of pasta, it's nice to have something different in your table, isn't it? I found that home made gnocchi are lighter than the one that you can buy from the supermarket. For the next post we will share to you how to make a delicious sauce to accompany this gnocchi.
So now let's go to the kitchen….
Gnocchi di Patate (Potato Gnocchi)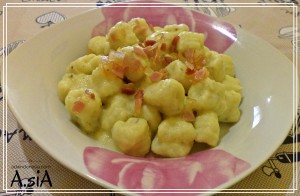 Preparation Time: 20 minutes
Cooking Time: 5 minutes
Serves: 4-6 persons
Ingredients:
1 kg – potatoes
300 gr – all purpose flour
1 – egg
salt
water
Instructions:
Wash the potatoes without peeling it. Put them inside the pot with salty water and boil it for about 20-30 minutes (until tender). When they still hot, peel and mash.
Then add a pinch of salt, and flour. Knead it until you got compact and soft dough.
At this time you can add the egg and continue kneading until it's compact and no lumps.
Divide the gnocchi dough into some strands with 2-3 cm of diameters.
Cut them into 2-3 cm long. Let it rest for 15 minutes.
Meanwhile boil some water in a pot and add salt. When it's boil transfer the gnocchi into the boiling water. Cook them for about 1-2 minutes or until the gnocchi float to the surface.
Take it out and serve with your favorite sauce or just with extra virgin olive oil and parmesan cheese.
If you want to impress your family and your guests, you can try to make gnocchi at home.That's all..!! How simple it's.
Thank you for visiting our website. We love to hear from you, so please leave your comment down bellow.
Don't forget to like us on Facebook and follow us on Instagram, or Google+, subscribe to our channel in YouTube A.siaVlog so you will receive a notification of our new post. If you want to share any good recipe or information, do not hesitate to write to us. We will publish it on behalf of your name.
Enjoy this recipe, and take care! We'll see you again in our next post. Tetap di Ada Indonesia…see you soon!