Farfalle with Zucchini & Curry Sauce
Halo..aloha!! Piye kabare? (How are you in Javanese dialect).
Ihope everything is fine, because today I want to bring you to the kitchen with this recipe. If you like Italian food especially pasta, and you also like Indian curry..this dish is created especially for you 🙂 It's one of our favourite dish, easy to make and easy also to find the ingredients. I'm sure you always have it in you fridge.
So, if you are curious to know how to make this FARFALLE WITH ZUCCHINE & CURRY SAUCE..let's go to the kitchen!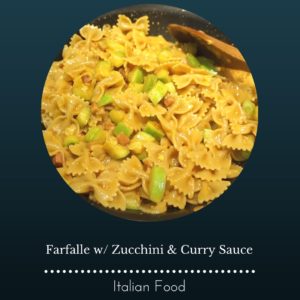 Preparation Time: 5 minutes
Cooking Time: 15-20 minutes
Serves: 2 servings
Ingredients:
160 gr – Farfalle Pasta
1 – Zucchine
Bacon (as you like)
1/4 cup – Milk
1/4 – Onion
2 cloves – Garlic
1 tsp – Tomato Paste
1 tbsp – Curry Powder
2 tsp – Salt
2 tsp – Salt (for boiling pasta)
1 tsp – Cumin
1 tsp – Pepper
Chili Powder (optional)
2 tsp – Oil
Sugar (optional)
Water (to boil the pasta)
Preparations:
Boil the water to cook the pasta. Don't forget to add salt when the water is boiling, then cook the pasta (follow the cooking time in the instruction on the package).
Meanwhile, chop the onion & garlic, then cut the bacon into dice.
Stir-fry onion & garlic with a low heat until wilted & little bit browned (don't forget to stir occasionaly)
While stir-frying the onions, cut the zucchini into dice.
If the onion is wilted & browned, add the bacon and stir-fry for some minutes. Then add zucchini (don't forget to seasoned with salt, curry powder, cumin, & pepper).
Then leave a space to stir-fry the tomato paste, and mix with the other ingredients.
Add a little bit of water to help the zucchine to cook. Cook for about 2-3 minutes.
Then add the milk/ cream/coconut milk. Mix well.
When the pasta is ready, strain and add to the curry sauce. Mix well again & taste. If you like you can add a pinch of sugar to balance the taste.
Serve while it's hot. Happy cooking!!
If you don't have milk at home, you can also use cream or coconut milkWe hope that you like this recipe. Thank you for visiting our website. We love to hear from you, so please leave your comment down bellow.
Don't forget to like us on Facebook and follow us on Instagram, or Google+ and SUBSCRIBE to our channel A.siaVlog so you will receive a notification of our new posts & new videos. If you want to share any good recipe or information, do not hesitate to write to us. We will publish it on behalf of your name.
Enjoy this recipe, and take care! We'll see you again in our next post & video. Tetap di Ada Indonesia…see you soon!