Ddeokbokki (Korean Spicy Rice Cake)
Hi there..!! How's your holiday?? Hope you enjoy it with your family…
Today's recipe is "Ddeokbokki" (Korean Spicy Rice Cake). It's a famous Korean snack (if you're a fans of Korean Drama, for sure you know this dish). It's a Rice Cake, cook in sweet and spicy sauce. It's simple & easy to make, and of course it's also delicious. I hope you can find all the ingredients in the Asian Supermarket near your house, so you can try also to make it at home 🙂
So, without further a do…let's go to the kitchen!!
DDEOKBOKKI (SPICY RICE CAKE)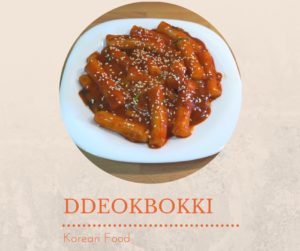 Preparation Time: 5 minutes
Cooking Time: 15 minutes
Serves: 2 servings
Ingredients:
200gr – Rice Cake
400 ml – Water
1 tsp – Dashi Powder
1 tbsp – Red Pepper Paste
1 tbsp – Red Pepper Powder
1 tbsp – Sugar
1 tsp – Sesame Oil
1 tbsp – Soy Sauce
Chives (as you like)
Sesame seeds (for garnish)
Preparations:
Turn on the stove, add the water & dashi powder into the pan & bring to a boil.
When it's boil, add the rice cake & let it boil again.
Then add red pepper paste (gochujang), red pepper powder, sugar & soy sauce. Mix well & cook again until the sauce is thickened (stir occasionally, so it will not stick to the bottom)
While waiting, cut the chives more or less 2 cm.
When the sauce is thickened, add the chives & sesame oil. Stir & turn off the stove.
Serve it on a plate, then sprinkle with sesame seeds.
Eat while it's hot. Happy cooking!!
We hope that you like this recipe. Thank you for visiting our website. We love to hear from you, so please leave your comment down bellow.
Don't forget to like us on Facebook and follow us on Instagram, or Google+ and SUBSCRIBE to our channel A.siaVlog so you will receive a notification of our new posts & new videos. If you want to share any good recipe or information, do not hesitate to write to us. We will publish it on behalf of your name.
Enjoy this recipe, and take care! We'll see you again in our next post & video. Tetap di Ada Indonesia…see you soon!