Bakso (Indonesian Meatball)
Halo semua! Apa kabar? We hope that you have a great day. As my sister suggestion..finally we decided to give you a recipe to appreciate all of you who has faithfully visited our website.
This is a recipe of Bakso (Indonesian Meatball). It's commonly eat as a snack in Indonesia. You can find Bakso almost in every corner in Indonesia, from the street-side food until a nice restaurant in commercial center. But nowadays there's an issue that the vendor mix in Borax or another preservative.
If you're worried about the issue out there about meatball with preservative or any unpleasant products…try to make this recipe at home. So you will know what is inside the meatball, and how it was made. It's cheap, easy, and healthy.
Let's cook! Have fun in the kitchen…
Bakso  (Indonesian Meatball)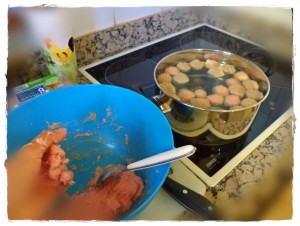 Preparation Times: 15 minutes
Cooking Times: 1 hour
Ingredients:
1.5 kg – mince beef
225 gr – ice cubes
3 – egg white
250 gr – tapioca flour
6 tsp – garlic powder
3 tbsp – fried shallot/onion
2 tsp – stock cubes
4 tsp – agar-agar
6 tsp – salt
3 tsp – sugar
3 tsp – pepper
Instructions:
First, you need to boil the water in a big pot.

Then, put the mince beef inside the food processor, and  grind it again until it's smooth.

Add 4 ice cubes, and grind.
When it's already mixed, add tapioca flour, garlic, fried shallot, salt, and pepper. Grind again until all the ingredients become smooth and has pink color.
It's ready to make the meatball. Put the dough in your hand and form into a ball, then directly throw it to the hot water.
When it's finish, keep boiling all the meatballs for about 20 minutes, on a low-heat.
Your meatballs are ready, and you can eat them in any way you like.
Selamat makan semua!
Wet your hand with water or oil before you form the meatball, in order to easily make the round shape of the meatball, and the dough not so sticky to your hands.Thank you for visiting our website. We love to hear from you, so please leave your comment down bellow.
Don't forget to like us on Facebook and follow us on Instagram, or Google+ so you will receive a notification of our new post. If you want to share any good recipe or information, do not hesitate to write to us. We will publish it on behalf of your name.
Happy cooking, and take care! We'll see you again in our next post. Tetap di Ada Indonesia…see you soon!