Love Your Kitchen & Love Cooking
Hi everybody! It's nice to have time to write for you again. To be a new wife for me is a new challenge for my life.
It's a challenge to cook something good, healthy, and with different kinds of ingredients, and it's not as easy as I thought. Everyday I need to think "what will I cook today?" I don't want to make myself or even my husband to feel bored to eat the same food. These things had made me to love cooking more than before, and this is the right time for me to start because we still don't have children.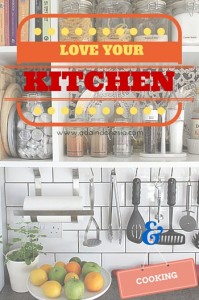 So today I want to give you some tips that I hope it makes you feel confidence and more comfortable to be in your kitchen…
If you're a beginner, read your recipe carefully to help you prepare the right ingredients in the right amount for the portion that you need.
Don't forget to wash your hands before you start to cook. Our hands are one of the main ways germs are spread, so it's important to wash them thoroughly with soap and warm water before cooking, after touching the bin, going to the toilet, and after touching raw food.
Before you cook, you need to prepare the ingredients in advance. The more organized you're in the kitchen, the easier cooking becomes.
When you want to cook meat, make sure it's in room temperature (take it out from the fridge at least 20 minutes before you cook). If you cook directly from the fridge, the muscle fiber will be tight, which result a tough meat.
Always remember to pre-heat your oven at least 20 minutes before cooking.
It's advisable to wash fruit and vegetables under cold running water before you eat them. This helps to remove visible dirt and germs that may be on the surface.
If your fingers feel hot after you work with chili…slice a lemon, and squeeze the juice to your fingers. It's instantly get rid of the heat.
Wash all worktops and chopping boards before and after cooking, as they can be a source of cross-contamination. The average kitchen chopping board has around 200% more bacteria on it than the average toilet seat.
Sharpen your knife for about 5 minutes every time you start or finish cooking. It makes your knife always sharp, so it helps you to cook easier and faster.
Keep your kitchen always clean and tidy, so you will always feel happy to start cooking..if you have a good mood while cooking, at the end you will also produce a nice food.
Don't forget also to store your ingredients in the right way, so you will always use fresh and good quality of food everyday.
"No one is born a great cook, one learns by doing." -Julia Child-That's all for today! Thank you for visiting our website. We love to hear from you, so please leave your comment down bellow.
Don't forget to like us on Facebook and follow us on Instagram, or Google+ so you will receive a notification of our new post. If you want to share any good recipe or information, do not hesitate to write to us. We will publish it on behalf of your name.
Happy cooking everybody, and take care! We'll see you again in our next post. Tetap di Ada Indonesia…see you soon!