10 Must-Eat Restaurants In Tenerife: Tenerife Food Guide
If you love to eat, this guide on some of the best restaurants in Tenerife is for you.
Note: Tenerife is not a gigantic island but also not so small, with thousands and thousands of restaurants. So this list of top 10 restaurants in Tenerife is by all means not complete, but it's a selection of the best restaurants we personally tried, trying to cover a little bit main restaurant food type. If you have other favorite restaurants in Tenerife (not mentioned in this guide), we'd love to hear if you can share in the comments below.
1. Bombay Babu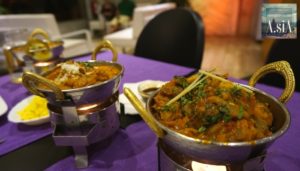 If you like Indian food, this is definitely the place where to go. A wide choice of traditional Hindu food in the south of Tenerife and a very professional and friendly staff.
Also the locations and furnishing are very modern and cured.
For us, Bombay Babu is always a guarantee of a very nice Indian food experience.
Address: 
Bombay Babu – Torviscas (the original restaurant). Torviscas Calle Valencia, No.4
Bombay Babu – Callao Salvaje. Callao Salvaje, Av. El Jable No.45
Bombay Babu – El Medano. El Medano, Sotavento Mall (playa Tejita)
Prices: Very good quality/price balance. Generally you can have a good full meal for around 20 € per person
How to get there:
2. La Gaviota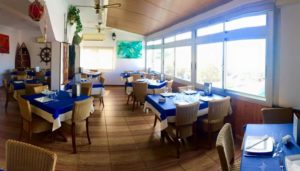 La Gaviota is a tiny restaurant located in Tajao specialized in Canarian style fish and seafood.
When you will seat at your table, you will notice that there is not a menu, just wine list. Just go to the fish counter and you will see the fresh fish available. Since they use fish from local fishermen, the fish available could vary day by day.
Tajao is a small fishing village in Tenerife where you can find really a lot of restaurants serving good fish and seafood. It has become a reference place in Tenerife for eating fish and  also people living in the north of Tenerife come to eat fish there.
So you have a really wide choice of restaurants of this kind there. We have not yet tried them all, but we think La Gaviota stands out above most of the others for quality.
Address: Calle Tabaibarril,núm 2, San Miguel de Tajao
Prices:  Little bit higher compared to most of the others, but still very good quality/price balance. Usually eating in a group of more than 4 people results in a cheaper bill.
How to get there: La Gaviota
Eating tip: Avoid dish like paella and go mainly for local fish and seafood. Suggested: pimiento del padron, chopitos, squid alla romana, pampano, abadejo,  caballa. Prawns are available but quite expensive since not local. White wine of the house is very good and always a good choice.
3. Pizzeria Luna Rossa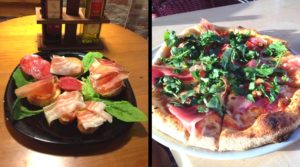 You can find a pizza almost everywhere in Tenerife (like almost everywhere in the world), but finding a good pizza (I mean a good Italian pizza) is not that easy.
Luna Rossa is a quite small pizzeria located in El Medano in a quite small side street, so maybe not so easy to notice compared to the many other touristic restaurants of the zone. Decor of the restaurant is very simple but warm with a lovely atmospheare.
They are really Italian, serving a real Italian pizza and calzone (closed pizza). The also have other interesting Italian dishes like pasta, salumeria, cheese, and other, but for sure pizza is a first choice with a quite wide list available.
Address: Paseo Galo Ponte No. 12, El Medano
Prices:  For the quality of the pizza, price is very affordable.
How to get there: Luna Rossa Pizzeria
Eating tip: Pizza and beer is always a good match. Just choose the topping best matching your taste.
4. Thai Botanico
Thai Botanico is a Thai restaurant located in Parque Santiago, a very touristic zone in the south of Tenerife.
It has a stunning botanical dining terrace that will make you feel like you're in Thailand. They also decorate the restaurant with authentic imported artefacts from Eastern region of Thailand.
Food taste is little bit adapted with the european tongue (especially British taste), so it's not so spicy and not 100% like you would eat in Thailand and sometimes they introduce also some fusion dishes, but you can always ask the waiters for extra chili on the side.
Staff is very professional, friendly and speaking really a lot of different languages (but not Indonesian 🙂 ) .
So if you want to taste some asian food, Thai Botanico is really a good option.
Address: 1st Floor Commercial Centre Safari. Avenida Las Americas, 5 Arona
Prices:  Especially due to the location, the price is quite high, but noth higher than restaurant in the same zone.
How to get there: Thai Botanico
5. Samelo – Veg in Abades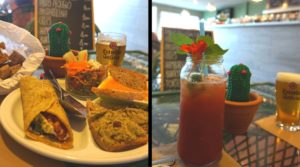 Samelo is a vegan restaurant in the small sea village of Abades. Vegan cuisine is getting always more popular and fashion nowadays and for vegan people having a vegan restaurant available also during their holidays is quite important.
The restaurant is quite recent (around little bit more than 1 year) and outside the typical touristic zones in Tenerife. The village of Abades is growing little bit in the last years, but still quite small and not very crowded. You can easily park there and you have also a quite nice small beach where you can also do diving.
The restaurant is very cozy with an original decor and the staff are very friendly and always smiling. They have both inside and outside tables.
If you follow us, you knows that we are not vegan, but we like to eat well. So if you are vegan or not, we suggest to try this restaurant to have a different good meal. We found also tempeh here.
Since they almost use only local and season products, they don't have a fixed menu. Just have a seat and let them suggest you with their daily proposal. You will have maybe a choice between around 10 dishes, and you will find for sure something that makes you hungry.
Almost everything is handmade, very fresh and tasty.
Address: calle 16 mayo, Abades
Prices:  Quite expensive compared to other restaurant in the same zone, but also the quality of the food (handmade) is very high, so the price is reasonable.
How to get there: Samelo
Eating tip: Plato Degustacion (a mix plate of daily dish tasting) is always a good option. You can share it as a starter, or choose as your main dish if you want to try more kind of food. Sometimes Abades can be very windy, in that case better to eat inside the restaurant. Before going there, better to check on their facebook page (always updated) to make sure they are opened. Also a call for booking a table would be recommended.
6. Meson Donde Mario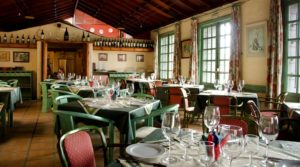 Donde Mario is a typical Canarian / Spanish restaurant where you can find both smart tourists and local people or family celebrating any kind of event.
The restaurant is quite with a typical Spanish restaurant interior. High quality food, really well cooked. Also the staff are professional.
Good variety for the wine list.
Address: Ctra. Provincial, 199. Santa Úrsula
Prices:  This is not a guachinche, so the price is not really cheap, but very high quality / price balance.
How to get there: Donde Mario
Eating tip: Queso Frito con mojo y miel de palma, Conejo en salmorejo, Rabo de toro, Escaldon
7. Zur Currywurst
Zur Currywurst is a small authentic German food restaurant near the sea in the touristic area of Torviscas in Costa Adeje. If you do not know it is not so easy to find it, because you need to climb some stairs of the commercial  center over all the restaurant downstair in the sea frontline, where each of these restaurants will try to convince you to eat there.
Restaurant furniture is very simple, and it is quite small inside, but they have a wide terrace with a very nice view on the sea. That's why most of the people always eat outside.
The restaurant is managed by just two young German guys, Robert and Micha. Usually one of them is taking care of the kitchen, and the other one of the customers. They do not speak Spanish too much, but they are really nice and friendly and do not have problem talking in English and of course German. In the terrace, there is also a big screen where you can watch Bundesliga football match or F1.
Menu list is not very wide, but if you are looking for a good German beer and a typical German food, this is the place to go. As the name suggest, the top dish is curry wurst plate, typical German sausage covered with a curry sauce, served with fries and sauerkraut.
Address: CC Terranova, local 303 | Torviscas
Prices:  Affordable.
How to get there: Zur Currywurst
Eating tip: Big thumbs up for currywurts and a pint of beer.
8. Cofradía El Muelle de Candelaria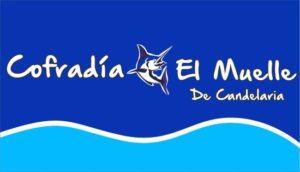 Cofradia El Muelle de Candelaria  is a fish/seafood restaurant in the village of Candelaria. Restaurant is not really big and the furniture is quite simple, but they have also a small terrace with a nice veiw on the ocean. You can eat nice fresh fish and seafood at a reasonable price, but if you just want to eat that, maybe the best option would be to go in Tajao as we suggested before.
What make this restaurant special in our opinion, is that you can find a really good paella here. Tenerife is not the best place for eat paella. You can find in a lot of restaurants, but usually in a poor quality. In this restaurant instead, we found always a really good quality paella. If you never tried, and the weather is not really hot, you could also try a really good arroz caldoso here. Arroz caldoso is quite similar to a paella, but has also broth.
Sadly they are not serving paella every day, so before going there is highly suggested to give a phone to make sure if paella is scheduled for that day.
Address: Av. de la Constitución, Centro Comercial El Pozo local 09, Candelaria
Prices:  Affordable for the kind of food.
How to get there: Cofradía El Muelle de Candelaria
Eating tip: Seafood soup, paella, arroz caldoso.
9. Meson El Monasterio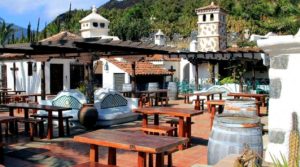 Meson El Monasterio is a gastronomic hotspot in a stunning location in Los Realejos. It was an old monastery, in the 1990s, offering few restaurants in a 100.000 m2 unique location between gardens, terraces and a farm.
Restaurants mainly offer  grilled meat, Spanish and Canarian food and a selection of good wines.
Parking is easy available in the complex. Food is good, but you could find better/cheaper place to eat meat (like guachinche). Anyway the location is really awesome to spend a day chilling out with your partner/family in a really original and green location at the foot of the volcano.
Address: La Montañeta, 12. Los Realejos
Prices:  Little bit expensive due to the location.
How to get there: Meson El Monasterio
10. Tasca El Granero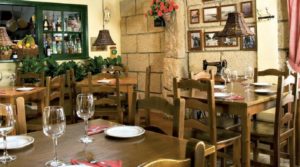 Tasca El Granero is a small restaurant where you can eat Spanish tapas and Canarian food. It is open only in the evening (18.00 – 24.00, closed on Sunday) and they do not accept reservations, so since the restaurant is not so big and it is quite popular, tables are usually quite easy to get busy.
Better to get there quite early or probably you will have to wait maybe quite a long to have your seat. If so, you can at least enjoy some of their very nice wine while you are waiting for your table.
Service, management and restaurant design is very cozy and familiar. It is the ideal place to spend the night with friends or family while tasting some nice food and wine.
Address: Calle Isla Margarita 13, Buzanada
Prices:  Not cheap.
How to get there: Tasca El Granero
Eating tip: We would suggest almost everything, so we can say try more tapas/food.