Pizzeria Luna Rossa, El Medano
Hello there! How are you? Good to see you again here in Ada Indonesia. Thanks for following us on Facebook. We have now 400 likes…we're so happy that you like our website. 🙂
Autumn is here…and the weather in Tenerife is started to change a little bit. It's started to rain and windy. It's not bad, but keep in mind that you need to cover your body and get some vitamin. You don't want to be sick, don't you?! I almost got it some days ago, and directly I got some vitamin C, eat more and stay under the blanket for 1 day, and thanks God I'm OK now. 🙂
For now, this is the best pizza that we've ever taste in Tenerife.So, today we want to share a good Pizzeria for you. The name is Pizzeria Luna Rossa, El Medano. It's been quite a while that we tried to find a good pizza in Tenerife. It's not easy…some had thick crust, some was to soggy, or the crust not well-cooked. And finally we found this Pizzeria located in El Medano.  So, this is the detail:
Pizzeria Luna Rossa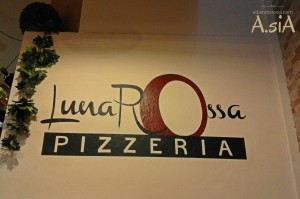 Paseo Galo Ponte No. 12, El Medano
Telp. +34 922 17 87 36 / 616 59 87 47
Besides Pizza, they serve also Calzone (closed pizza), pasta, salumeria, cheese, and other Italian dishes. If you want to visit El Medano, stop by to this Pizzeria for lunch, dinner, or having pizza with beer. We guarantee that you will like the pizzas here.
Thank you for visiting our website. We love to hear from you, so please leave your comment down bellow.
Don't forget to like us on Facebook and follow us on Instagram, or Google+, and subscribe to our channel in YouTube A.siaVlog so you will receive a notification of our new post. If you want to share any good recipe or information, do not hesitate to write to us. We will publish it on behalf of your name.
Enjoy your day with your love ones, and take care! We'll see you again in our next post. Tetap di Ada Indonesia…see you soon!