Korean Cold Noodles
Hi everyone!!
How's your summer holiday? Hope you all have a good holiday with your love one and families.
Here in Tenerife the weather is really hot, and some weeks ago even worst because there're some calima (hot wind from Africa). You can sweat even you did nothing. Ufff…!!! =/ Because of this hot weather, it's good to makes your body cold with take shower, swimming, or even eating something cold.
Here is a recipe specially for you to make your day fresher. If you like kimchi, I'm sure that you will like this Korean Cold Noodles. I hope you can find kimchi in the asian groceries near you or maybe you can make your own kimchi made by you.
Let's go to the kitchen…
Korean Cold Noodles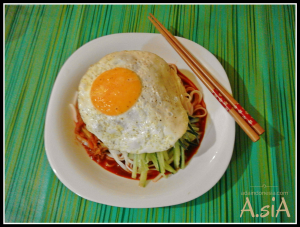 Preparation Time: 15 minutes

Cooking time: 5 minutes

Serves: 2 persons

Ingredients:
200 gr – soba noodles/somen noodles
1 cup – well-fermented kimchi (cut into bite sized pieces)
Garnish:
1 small – cucumber (cut into strips)
30 gr – yellow pickled radish
2 – eggs (sunny side-up)
toasted sesame seed
Sauce:
2 tbsp – kimchi juice / water
1 tbsp – gochujang (korean hot pepper paste)
1 tbsp – soy sauce
1 tbsp – honey
1 tbsp – sugar
1 tbsp – rice vinegar
1 tbsp – sesame oil
Instructions:
Boil the noodles in the pot of boiling water. Cook it according to the package instructions (more or less around 4 minutes)
While waiting for the noodles, put the sauce ingredients into a bowl and mix well.
Drain and rinse the noodles under running cold water. When the noodles become cold, drain well.
Now it's time to arrange everything into a serving bowl. Divide the noodles into 2 bowls and top it with the sauce, add the sliced kimchi on the top and garnish with cucumber, egg, and fried eggs.
Serve it cold, and mix well before you eat.
Try to make runny egg yolk, and brake it while mixing your noodles. The egg yolk add more creaminess to your noodles. Yum!
Thank you for visiting our website. We love to hear from you, so please leave your comment down bellow.
Don't forget to like us on Facebook and follow us on Instagram, or Google+, subscribe to our channel in YouTube A.siaVlog so you will receive a notification of our new post. If you want to share any good recipe or information, do not hesitate to write to us. We will publish it on behalf of your name.
Enjoy this recipe, and take care! We'll see you again in our next post. Tetap di Ada Indonesia…see you soon!