Gayagum Korean Gallery Restaurant, Madrid
Hi everybody! How are you? How's the weather in your place? Here in Tenerife, the temperature is getting hotter. It's nice to have mood to write post again for you all.
Last weekend we went to spend time in Madrid. It was a great escape for us, because we can tried some of the nicest restaurant there. Today we want to write about Korean Restaurant, the name is Gayagum Korean Gallery Restaurant.
This is the second time that we eat at that restaurant. The story when we found this restaurant is: It was a very cold and rainy evening. We were confused to choose a place to eat for dinner. We decided to search a restaurant with google map..but while we were walking, accidentally we passed in front of a Korean Restaurant. We decided to try, because I never eat in Korean Restaurant (we still cannot find Korean Restaurant in Tenerife).
I'm one of the Korean drama lovers, and everytime I watch Korean drama I really want to try the Korean food. But some years ago Korean food is not really famous, so it's difficult to find Korean restaurant. So the thing that I can do is find the recipe and try to make it at home. But it's still not satisfied me. So I was very happy when we found Gayagum. Without further explanation, here it's the detail information:
Gayagum Korean Gallery Restaurant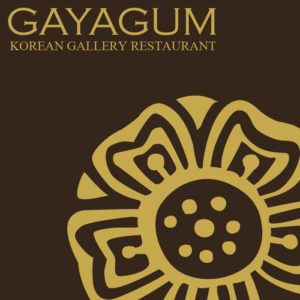 Calle Bordadores, 7 Madrid 28013
Telp. 915 4204 88 / 636 646 776 / 652 144 993
Open: Mon-Sun 12.00 pm – 11.00 pm
E-mail: md.gayagum@hotmail.com / restaurantegayagum@gmail.com
Gayagum Restaurant is not difficult to find. It's in the center of Madrid, near Puerta del Sol, and if you know the famous Chocolateria San Gines (it's the oldest chocolateria in Madrid that serve a delicious churros) you can find Gayagum easily. You can see Gayagum Restaurant from Chocolateria San Gines.
Gayagum Restaurant is a big restaurant. It has 2 floors, so it's a best place also to celebrate some occasion with your family and friends. It has a lot of variation of traditional Korean food: from hot soup,cold soup, rice, noodles, stir fry and even Kimbap (Korean sushi). They also grow the vegetable in their own farm, so the vegetables are always fresh.
If you never go to Korean Restaurant, you need to becareful when you order the food, because the portion is quite big and they will serve you also free side dish (it can be around 10 small portion of side dish).First visit I was so excited to try a lot of Korean food, so I order a lot of food without knowing that they will serve also a lot of side dish. At the end we cannot finish the food and we ask them to wrap it as a take a way. I really hope in the future there will be a good Korean restaurant in Tenerife, so we don't need to travel so far if I crave Korean food.
Thank you for visiting our website. We love to hear from you, so please leave your comment down bellow.
Don't forget to like us on Facebook and follow us on Instagram, Google+, and subscribe to our channel A.siaVlog so you will receive a notification of our new post & video. If you want to share any good recipe or information, do not hesitate to write to us. We will publish it on behalf of your name.
Enjoy your day with your love ones, and take care! We'll see you again in our next post. Tetap di Ada Indonesia…see you soon!