Fried Gyoza (Chinese Dumplings)
Ciao a tutti…!! How are you today? Everything is OK, right?
Today we will share a recipe from our neighbor country, China. This food is a delicious food that is good for appetizer and also main course, especially if you're on diet, just eat Gyoza and enough. It already contains of carbohidrat (from the skin), and protein (from the vegetables and meat inside), less fat but taste very delicious.
Enough talking, and let's start cooking!
Fried Gyoza (Chinese Dumplings)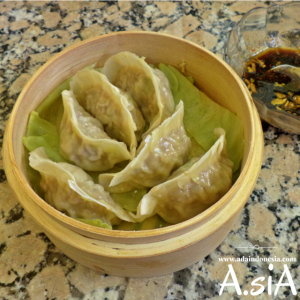 Preparation Times: 20 minutes
Resting Times: 1 hour
Cooking Times: 10 minutes
Serves: 3 persons
Ingredients:
Filling:
150 gr – cabbage & 1 tsp salt
1 clove – garlic
1 cm – ginger
30 gr – spring onion / garlic chives
150 gr – ground beef / pork
50 gr – chopped shrimp
1 tbsp – sake / white wine
1/2 tbsp – soy sauce
1 tbsp – oyster sauce
1 tbsp – corn starch
1/2 tbsp – sesame oil
Soy sauce for dipping sauce
For the skin:
150 ml – hot water
250 gr – flour
1 pinch of salt
Instructions: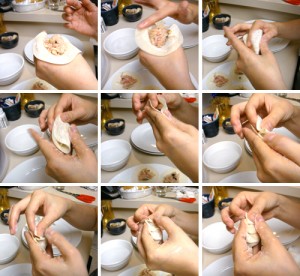 Chop cabbage and mix with salt. Let it rest for about 10 minutes.

Finely chop spring onion, garlic, and ginger.
Mix all the ingredients. Squeeze the cabbage, and mix with the filling dough. Cover and let it rest in the fridge for about 1 hour.
While waiting, let start to make the skin. Put the flour in a bowl, add pinch of salt, and pour the hot water little by little.
Continue kneading until it firm and compact.
Wrap with cling film and let it rest minimum 30 minutes in cool and dry place.
After 30 minutes, roll out the dough on a floured board, cut out around 5 cm discs using pasta cutter or glass.
After that, further flatten the skin with a rolling pin, to make them even thinner.
Prepare some hot water, and start to fill the Gyoza. Drop a spoon of mixture in the middle of each skin, brush the edge with water and fold into half-moon shapes.
Heat the pan and spread a little bit of oil. Arrange the gyoza on the pan, and cook for 1 minute (or until the bottoms are brown).
Pour hot water into the pan until half part of gyoza are covered. Cover with a lid and cook for 5-6 minutes with medium-high heat.
Open the lid, and continue cooking until the water is dry.
Serve on the plate, and gyoza is ready to eat with soy sauce.
Mix the ingredients with your hand, to make it more chewy. Use cooking brush, or paper towel that already dip in oil, to make a thin layer of oil.
Thank you for visiting our website. We love to hear from you, so please leave your comment down bellow.
Don't forget to like us on Facebook and follow us on Instagram, or Google+ so you will receive a notification of our new post. If you want to share any good recipe or information, do not hesitate to write to us. We will publish it on behalf of your name.
Enjoy this recipe, and take care! We'll see you again in our next post. Tetap di Ada Indonesia…see you soon!