Borne citizenship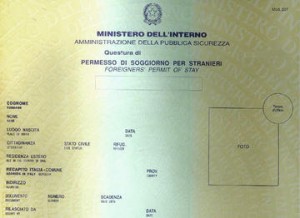 Hello everybody, Apa kabar?
Today I want to share something that was happening to me when I got my first "Permesso di soggiorno" (residence permit) in Italy and a problem in the citizenship reported on it.
Even though I had all the requirements, it was not so easy to get the permit, a lot of queues, a lot of patience needed and some months to finally get the document with a duration of 5 years. I was thinking it's not so bad, bureaucracy in Italy is like this and maybe other country not so different …
So what's the problem? … one day I present my residence permit to a public office and they asked me:
Why on your residence permit is reported BORNE citizenship while in your passport is Indonesian?
Of course my answer was: I don't have any idea, I am Indonesian. Residence permit is a document coming from your government. I think "BORNE" it's just an abbreviation or an acronym for Indonesian citizenship. Why you ask to me ??
In a normal country, the office staff would simply pick up the phone and call the office (Questura) where residence permit are issued. But we were in Italy, and for some things (bureaucracy) it's not a normal country … so the conclusion was that should be me going back to Questura (a couple of times), make a very long queue to ask: what the hell is "BORNE" ?? why on my permit there is BORNE for my citizenship?
I could not get an immediate response (they needed to check the system and make some tests) in order to give me the explanation after some days…The explanation is just that the Italian computer system has 2 acronym for Indonesian citizenship:
INDO

BORNE
I don't know if other countries have something similar, I think it's quite stupid … an acronym should be unique. Both acronyms are correct, so my document was absolutely valid, but I asked them to print another one with the INDO acronym, in order to avoid any doubt or question by other public offices in Italy or especially abroad. The office staff was kind and he made a new copy of my document for free.
So if you also have the acronym BORNE on your residence permit, don't worry, your document is valid.But when you got any certificate or document, remember to check any data and don't be shy to ask for any doubt. You will lose some minutes and maybe the office staff in front of you will complain … but you could save a lot of time in the future.
Thank you for visiting our website. We love to hear from you, so please leave your comment down bellow.
Don't forget to like us on Facebook and follow us on Instagram, or Google+ so you will receive a notification of our new post. If you want to share any good recipe or information, do not hesitate to write to us. We will publish it on behalf of your name.
Have a nice day, and take care! We'll see you again in our next post. Tetap di Ada Indonesia…see you soon!