10 Typical Canarian Foods
Hi guys, today we are going to talk again about food. We want to share 10 of the most typical Canarian foods.
Canarian food takes its roots from Spanish cuisine, with some African and Latin American influence due to the islands' location and history.
1. Papas Arrugadas and Mojo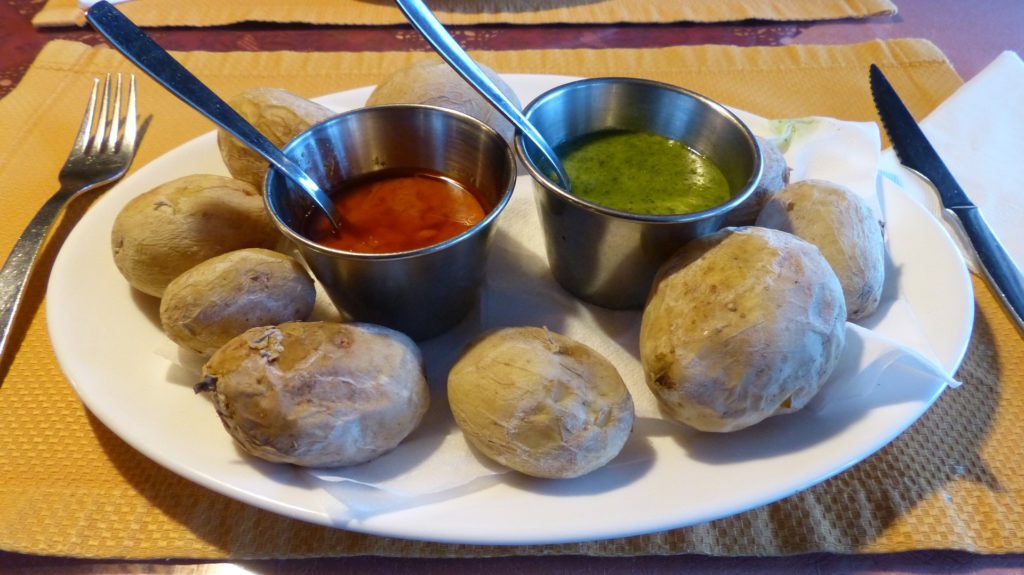 This is probably the most famous and typical Canarian food. Papas arrugadas are wrinkled potatoes boiled in very salty water, drained and tossed in sea salt.
They are always served with mojo rojo (a spicy red salsa) and mojo verde (a savoury green salsa made with either coriander or parsley). Do not peel them, you will waste most of their taste. It is supposed that typical papas arrugadas  are made with typical small Canarian potatoes (like papas negras).
Cannot eat in a Canarian restaurants without having some papas arrugadas and mojo.
2. Escaldón de Gofio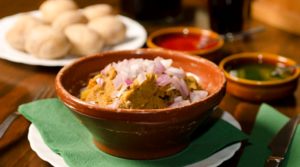 Gofio (toasted grain flour) is at the base of a lot of Canarian dishes (even for some desserts). It is also supposed to be the basic food eaten by the original Canary islands inhabitants, the Guanche.
One of the most famous plate based on gofio, is escaldon de gofio, that is gofio mixed with a stock (usually but not always) fish based. Sometimes it comes with huge onion wedges for scooping it up.
You should try it. We would suggest it as a side dish for a main meat plate.
3. Queso asado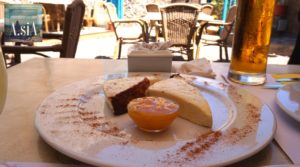 Queso asado is a Canarian local, smoked goats' cheese, usually lightly fried or baked in the oven.
Normally it is served with mojo rojo and mojo verde, but you can find also with palm honey. As a goat cheese, it doesn't have a really goaty taste.
It is usually served as a starter. We would suggest to try all the 3 sauces version to choose your preferred one, but any of them is a good choice.
4. Carne Fiesta
Carne fiesta is a spicy blend (not really spicy) of cubes of pork marinaded in garlic, thyme, oregano, salt, spicy peppers, paprika, oregano, wine vinegar and maybe even white wine.
It is one of the typical Canarian meat dishes; always a good match with some local wines.
5. Pata Asada
Pata asada (roasted leg of pork) is maybe one of the most popular snacks in the bars and restaurants in the Canary Islands.
You can eat alone (as a tapas) or also in a bocadillo (sandwich).
Originally it was a Christmas dish, but nowadays you can find it along all over the year.
6. Conejo en Salmorejo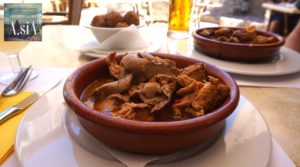 Conejo en Salmorejo (rabbit in salmorejo sauce) is another typical Canarian meat dish.
Rabbit is marinated whole night in red wine and herbs.
It has a quite strong taste and little bit spicy. Good matching with papas arrugadas and local wine.
7. Carne Cabra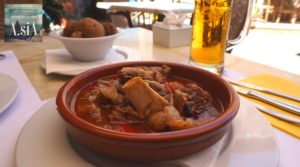 Another typical Canarian meat dish. Especially famous in the islands of Fuerteventura, La Gomera, El Hierro and Tenerife, where goat farm always had a stronger tradition.
It has a really strong taste and it is a quite complex dish to prepare.
So if you don't like so much goat meat, this is not a plate for you.
8. Ropa Vieja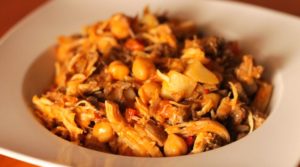 Ropa vieja (literally translated to 'old clothes') is a delicious stew that originated as a way to use the leftovers from another traditional dish called puchero.
Nowadays, Ropa Vieja is so important to local cuisine that people make it on its own, not using leftovers.
The dish usually mainly consists of shredded beef and chicken, and sometimes pork as well.
In addition to the meat, you'll probably find garbanzo beans, tomato sauce, and boiled potatoes.
9. Puchero Canario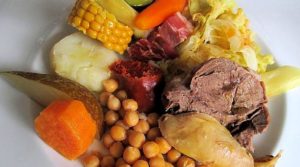 Puchero Canario is essentially a stew containing meat, vegetables and, often, anything else the chef cares to throw in the pot in addition.
Mainly usual ingredients are: potatoes, corn on the cob, chick peas, cabbage, chunks of meat (normally pig but beef is also used) and chorizo.
10. Almogrote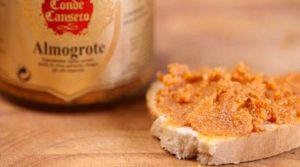 Almogrote is a dip typical of the small island of La Gomera and it is made with the leftovers of matured cheese, hot pepper and paprika, all blended together with olive oil and garlic.
As a result, it is something like a mojo with a paté texture.
It has a quite strong cheesy taste and it is usually a good match over some bread as a starter.
Nowadays you can find it also in almost all supermarkets and gastronomic souvenir shop.