Lumaconi w/ Zuchine and Yogurt & Peas Sauce
Hola todos!! Como estais?
How's your day in this new season? For you that live in Europe, have you change your watch? Don't forget to change it 1 hour back, and prepare your wardrobe with autumn and winter clothes.
Anyway, today we want to share a recipe for you to enjoy with your family and friends. It's a refreshing Italian recipe, and also delicious. For you vegetarian friend, this recipe is great for you to try. In this recipe, we just share how to make the sauce recipe. But if you have time to make the fresh pasta, it will be great!
So, let's go to the kitchen…
Lumaconi w/ Zuchine, and Yogurt & Peas Sauce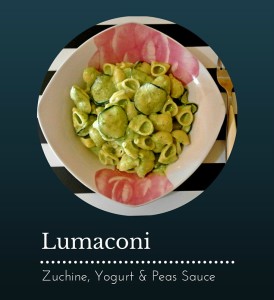 Preparation Times: 10 minutes

Cooking Times: 30 minutes

Serves: 2-3 servings
Ingredients:
200 gr – lumachoni pasta
2 stalks – spring onion
1 clove – garlic
100 gr – green peas
125 gr – greek yogurt
1 – zuchine
1 tsp – thyme
1 tsp – chopped parsley
25 ml – vegetable/chicken stock
Extra virgin olive oil
Salt & Pepper
Preparations:
Slice the spring onions thinly, and chopped the garlic.
Add some olive oil into the pan and stir-fry spring onion and garlic until perfume and wilted, then add the green peas and stir-fry until cooked and set it aside.
Boil the water for the pasta, and slice the zuchine into thin-circle. Add the zuchine into the pan and stir-fry. After that add the vegetable stock, and cooked for about 10 – 15 minutes.
When the water is boil, add salt and lumaconi pasta, cook it depends on the time instruction in the pack.
Meanwhile, put the yogurt into the food processor and add the green peas, salt and pepper. Grind until smooth and put it in a bowl.
Strain the cooked pasta and add it into the bowl together with the zuchine, thyme, and chopped parsley. Mix well and adjust the taste.
It's ready to serve while it's hot.
If you don't have lumaconi pasta, you can use other shape of pasta.This is the first pasta dish that we share here in Ada Indonesia. We hope that you like this recipe, and we will share more pasta dishes for you in the future. Thank you for visiting our website. We love to hear from you, so please leave your comment down bellow.
Don't forget to like us on Facebook and follow us on Instagram, or Google+, and subscribe to our channel in YouTube A.siaVlog so you will receive a notification of our new post. If you want to share any good recipe or information, do not hesitate to write to us. We will publish it on behalf of your name.
Enjoy this recipe, and take care! We'll see you again in our next post. Tetap di Ada Indonesia…see you soon!