La Salumeria Silvio
Hi there..!! Greetings from us, and we always hope that you're fine. What a great morning …. and makes me have the mood to write for you a new information.
Last week we were in Italy. We went there because we've been invited to attend the first communion of my husband's nephew and baptist of the babies from my Indonesian friend that married also with Italian. It's really a happy moments, because of what?! … in those week we were eating also lots of delicious Italian food, not only on the parties but also at home.
Why at home?!? Because the house of my parents in law is very close to traditional Italian  salumeria shop (the name is Salumeria Silvio). A shop that selling salumi (prosciutto, bresaola, but also cheese, wine, ready food and a lot of delicious foods with a good quality).
Yeah..I said a good quality of food (if you compare to food that they sell in the supermarket). First time I taste those food..mmm, I didn't notice the different (I just know that it taste good). But when we moved to Tenerife, then I realized that I cannot find the food as delicious as the food that I eat from Salumeria Silvio. Because they know how to choose a good quality food and how to take care of it. Anyway..this is the address :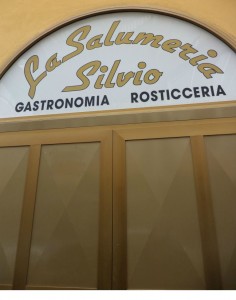 Open:
Monday  08.30 – 13.00
Tue – Sat  08.30 – 13.00, 16.00 – 19.30
Sunday    CLOSED
This shop was open since more than 30 years ago, and until now they always keep the quality and freshness of their product. The shop is clean, arranged very well, and located in the center of Bergamo. The location of Salumeria Silvio is very strategic, easy to reach, and not so difficult also to find a parking space around. So guys, if you're living in Bergamo-Italy, or planning to visit Italy, or flying to Milano Orio al Serio airport (if you have flown to Italy with Ryanair, maybe you already know this airport not so far from the center of Bergamo) don't forget to take a look for this shop, and later you can also visit a beautiful romantic old town "Città Alta". You will not regret it..
Thank you for visiting our website. We love to hear from you, so please leave your comment down bellow.
Don't forget to like us on Facebook and follow us on Instagram, or Google+ so you will receive a notification of our new post. If you want to share any good recipe or information, do not hesitate to write to us. We will publish it on behalf of your name.
Have a nice day, and take care! We'll see you again in our next post. Tetap di Ada Indonesia…see you soon!