Borobudur Ristorante Indonesiano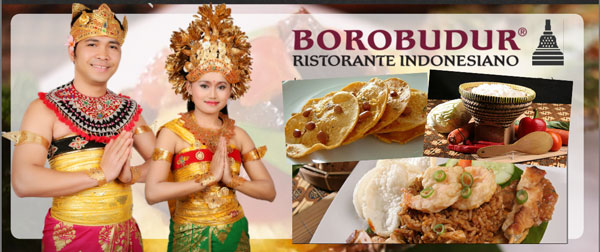 Halo Indonesia…!! and hi also to Indonesian people that living in Italy. How's everything in Italy? Hope you and your family are always fine.
Suddenly I remember the first week when I just moved to Italy with my husband. I really missed my family…and also Indonesian food. Eating Italian food everyday, it's quite tough. I was feeling like tired, because I'm not used to eat the real Italian food. Yeah…we also have Italian restaurant in Indonesia, but usually they already change little bit the taste to follow Indonesian taste. So..this real Italian homemade cooking by my mother-in-law was something new for me.
Luckily I have Japanese sister-in-law that showed me some Asian supermarket near the house. Finally I can see some food that I know, and try to make some Indonesian food at home. But I was still not yet satisfied of the food that I cooked. So..my husband was helping me to find any Indonesian restaurant in Italy. We found it!! The name of this restaurant is…
Borobudur
Via Canneto il lungo 8r  Genova 16123
Telp. 010.247.53.10
Open from 12.00 – 14.30, and 19.00 – 23.30               (CLOSED on Tuesday)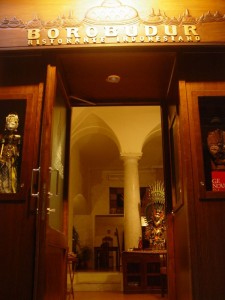 Borobudur Restaurant was open in 2004, and until now is officially the only Indonesian Restaurant in Italy.There are lot of choices in the menu that coming from some islands in Indonesia such as Java, Bali, Sumatra, and Borneo (Kalimantan), or if you want to celebrate some occasion here, you can also create your own menu. They also have dance performance (with variation from all cultures in Indonesia) every evening, with Javanese atmosphere because all the furniture are made in Indonesia.
So…what are you waiting for? Let's go to visit Borobudur and enjoy the delicious food from Indonesia.Thank you for visiting our website. We love to hear from you, so please leave your comment down bellow.
Don't forget to like us on Facebook and follow us on Instagram, or Google+ so you will receive a notification of our new post. If you want to share any good recipe or information, do not hesitate to write to us. We will publish it on behalf of your name.
Have a wonderful day, and take care! We'll see you again in our next post. Tetap di Ada Indonesia…see you soon!