Tofu & Bean Sprout Stir-Fry
Hello everybody…!! Do you have a good day? I really hope that you do.. 🙂
First thing, we want to say thank you so much for you all that spend your time to watch our video, read our recipe, visit our website and do all the good stuff for us. Especially to you that give us comments, like, following us in social media and of course subscribe to our channel. A very big big hug for you guys!!! 🙂
Today's recipe is a very simple home cooking, yet tasty and healthy. This dish is good also for vegetarian & vegan people. Hello there!! We love also to go to eat to veg & vegan restaurant 🙂 The ingredients of this dish is easy to find anywhere and in any countries. I believe so…
So…let's go to the kitchen!!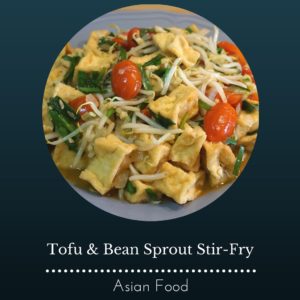 Preparation Times: 5 minutes
Cooking Times: 15 minutes
Serves: 3-4 servings
Ingredients:
1,5 block – Fried Tofu (cut into square, bite size)
150 gr – Mung Bean Sprout
150 gr – Cherry Tomatoes
1/2 handful – Chives
1/4 – Onion
2 cloves – Garlic
2 – Chilies (optional)
1 tbsp – Oyster Sauce
1 tsp – Salt
1 tsp – Sugar (optional)
Oil
Preparations:
1. Turn on the stove and add a little bit of oil, then stir-fry onion, garlic, and chilies until fragrant.
2. While waiting, let's cut the chives into 3 cm long.
3. When the onions & garlic are fragrant and a little wilted, add the tofu, cherry tomatoes, and a little water and stir well.
4. Seasoned with salt & oyster sauce, and cook until the tomatoes are little bit wilted. ( You can add soup stock powder if you like)
5. Add beansprout and cook for a while and finally add chives.
6. Don't forget to taste and if you like you add some sugar.
7. Turn the heat off and done! Serve it with hot steam rice. Happy cooking!!
We hope that you like this recipe. Thank you for visiting our website. We love to hear from you, so please leave your comment down bellow.
Don't forget to like us on Facebook and follow us on Instagram, or Google+ and SUBSCRIBE to our channel A.siaVlog so you will receive a notification of our new posts & new videos. If you want to share any good recipe or information, do not hesitate to write to us. We will publish it on behalf of your name.
Enjoy this recipe, and take care! We'll see you again in our next post & video. Tetap di Ada Indonesia…see you soon!