Squid in Padang Sauce (Cumi Saus Padang)
Hola todo..!! Que tal?
It's been almost 1 month we didn't post anything. Sorry to make you all waiting. Anyway how's your summer holiday? Here the weather is nice, but the sun is very hot. I don't really like sun, it makes my  skin darker =p (Is it a problem of Asian people?). But anyway I still go outside (if needed) with sun cream all over my body.
If you go to eat in a Seafood Restaurant in Jakarta, when you order the food you can ask the chef to cook with the sauce that you like. Today we want to give you another recipe to enjoy with your family. Here in Tenerife most of the time you can order only fried or grill (my husband said in this way you can taste the original seafood flavor, but for me without sauce the seafood taste so fishy). At first I need to adapt to this way of cooking, but deep down in my heart I always feel that I miss something (where's the sauce?). That's why I decided to write this recipe for you (especially for you that never eat seafood in Indonesia).
Let's go to the kitchen…happy cooking!
Cumi Saus Padang (Squid in Padang Sauce)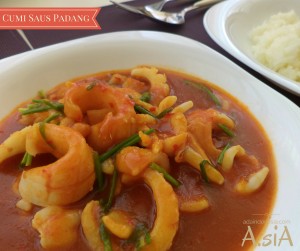 Preparation Times: 10 minutes
Cooking Times: 20 minutes
Serves: 3 – 4 persons
Ingredients:
500 gr – squid
1 tbsp – corn starch
250 ml – water
5 stalk – chives
3 cm – ginger (crushed)
1 tbsp – oyster sauce
2 tbsp – chili sauce
6 tbsp – tomato ketchup
Salt, sugar, oil
Ingredients for paste:
3 pcs – red chili
4 cloves – shallot/onion
2 cloves – garlic
Instructions:
Grind all the ingredients for the paste, then saute in the pan with oil, and ginger until perfumed (around 5 minutes).
Put the squid into the pan and stir.
Add water and other ingredients, stir and continue cooking until boil.
When it's boiling, turn down the fire, and continue cooking until the squid is cooked enough.
Pour maizena that already mixed with water. Cook until the sauce become thick.
At last spread chives on the top and serve with hot steam rice.
I hope you like this way of cooking seafood.
Thank you for visiting our website. We love to hear from you, so please leave your comment down bellow.
Don't forget to like us on Facebook and follow us on Instagram, or Google+ so you will receive a notification of our new post. If you want to share any good recipe or information, do not hesitate to write to us. We will publish it on behalf of your name.
Enjoy this recipe, and take care! We'll see you again in our next post. Tetap di Ada Indonesia…see you soon!