Little Italy – Kuta Square, Bali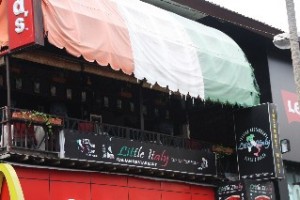 Halo yang di sana!! Hi there!! Looking for new information, stay here in Ada Indonesia. Today we want to share a yummie information about Little Italy – Kuta Square, Bali.
If you're Italian or a fan of Italian food and you are in Bali, you will like this restaurant. It's located in Kuta Square, the center of touristic place in Bali, so it's easy to reach. If you pass the restaurant, maybe you will not notice it, but it's exactly above Mc. Donald. You will find a door that connect you directly to the restaurant by a staircase.
Little Italy
Jl. Bakung Sari, Bali Indonesia 80361 Kuta Square
Open from 10.oo – 01.00
Telp. +62361 752 154
Little Italy has a lot of choices of italian food with a real italian taste, they are serving traditional food including wood fired pizza, steaks, seafood and pasta. It's open everyday for lunch and dinner. So…let's make a holiday trip to Bali, Indonesia and try your favorite food in Little Italy.
Thank you for visiting our website. We love to hear from you, so please leave your comment down bellow.
Don't forget to like us on Facebook and follow us on Instagram, or Google+ so you will receive a notification of our new post. If you want to share any good recipe or information, do not hesitate to write to us. We will publish it on behalf of your name.
Enjoy your day, and take care! We'll see you again in our next post. Tetap di Ada Indonesia…see you soon!