Kopi Luwak
Selamat pagi semua… still with us in Ada Indonesia!?!
Have you ever heard about "Kopi Luwak"?
People say it's a coffee from the shit…upss, sorry!! Don't mean to say bad words, but let's say it's a coffee that had been fermented in the stomach of animal (the name is Luwak) and comes out as a poo. But don't worry there's cleaning process for that.
Coffee luwak  refers to the coffee that includes part-digested coffee cherries eaten and defecated by the luwak (asian palm civet).It's famous not for how it makes but also because of the price…it's the most expensive coffee in the world… it's around € 100/pound and you can find it only in some cafe around 5 € a cup. Wow!! Are you interesting to try?? Or maybe just want to see Luwak and how to make this coffee. You can go to:
Grand Buana Amertha Sari (BAS) Agrowisata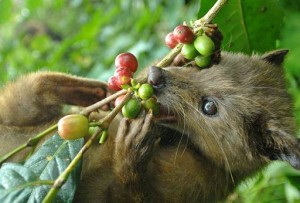 Jl. Kintamani, Sribatu Susut, Bali Indonesia
Telp. +62 857 3910 5999
We tried it in our last trip to Bali. It's a quite strong coffee, and I have to say it's also nice. For the strength, you can compare it to an Italian espresso (more or less). If you like espresso, maybe kopi luwak, is the best coffee you can drink there, better than Balinese or other Indonesian coffee.
It's the same way to reach Batur Mountain and Kintamani Lake. One way to go, and you can visit two unique places.I just had more knowledge about luwak and coffee from my cousin. He is a traveler (mmm..you can say like that), because he really likes to travel especially around Indonesia. He also took a lot of good picture and video while travelling. You can see more information about him in the post (Pre-wedding Photographer).
So as he said…luwak coffee can have a different flavour, depends on which kind of coffee cherries that the luwak eat. For example luwak coffee from Sumatra taste different than luwak coffee from Bali. The coffee that comes from the west part of Indonesia is more sour and less bitter, in the other way luwak coffee that comes from east part of Indonesia is more bitter and less sour.
What are you waiting for?? Plan your holiday trip from now!! You can visit Bali to try luwak coffee from Bali like what we did, or maybe you can even visit other island in Indonesia and taste a different kind of luwak coffee there.
Thank you for visiting our website. We love to hear from you, so please leave your comment down bellow.
Don't forget to like us on Facebook and follow us on Instagram, or Google+ so you will receive a notification of our new post. If you want to share any good recipe or information, do not hesitate to write to us. We will publish it on behalf of your name.
Have a great holiday, and take care! We'll see you again in our next post. Tetap di Ada Indonesia…see you soon!
And if you are looking for an accomodation for your travel, check out this  Top 8 Villas in Indonesia