Bakmi Jowo "Mas Pung"
Hola Indonesia!!
The wind here in Tenerife is very strong today, hope it will not makes me fly…and how about the weather in your place? Hope it's a beutiful day. Anyway in this cold wind, suddenly I feel like I want to eat something hot like Bakmi Godog. Mmm… if you're living in Bekasi, Jakarta or any place surrounding, you don't need to fly to Yogyakarta to taste Bakmi Jowo…. you have one near you.
Bakmi Djowo asli Jogja "Mas Pung"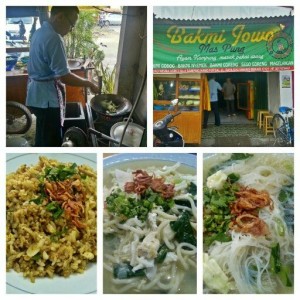 Jl. Raya Kali Abang No.5 – Bekasi 17121
Ruko Wisma Asri 2 Samping Nano Futsal
Open Tuesday-Sunday from 15.00 – 23.00
Telp: +62817 6794461 / +6287 887673 935
Bakmi Jowo Menu
Food: 
Bakmi Godog
Bakmi Goreng
Bakmi Nyemek
Bihun Godog
Bihun Goreng
Nasi Goreng
Nasi Godog
Magelangan
Kwetio
Cap Jae Jowo
Beverage:
Wedang Uwuh
Wedang Jahe
Jahe Susu
Jeruk Panas
Teh Manis
Teh Tawar
Kopi
S-Tee
Teh Botol
Air Mineral
Bring your family or someone you love, and enjoy the real Javanese food at Bakmi Jowo "Mas Pung". Thank you for visiting our website. We love to hear from you, so please leave your comment down bellow.
Don't forget to like us on Facebook and follow us on Instagram, or Google+ so you will receive a notification of our new post. If you want to share any good recipe or information, do not hesitate to write to us. We will publish it on behalf of your name.
Have a great day, and take care! We'll see you again in our next post. Tetap di Ada Indonesia…see you soon!