4 Beautiful Places in Bali
Apa kabar semua?? Hope you're fine. As we are also fine here..because the sun is back here in Tenerife, after some cold days. Anyway…today we want to share you some information about 4 Beautiful Places in Bali.
We're sure that most of Indonesian people already know about these places, but we want to share also more information for other people around the world…so they will know how beautiful is Indonesia. We want everybody can enjoy the history, the beautiful view, the art, kind people and lot of delicious food that we have in Indonesia.
4 Beautiful Places to visit in Bali
Tanah Lot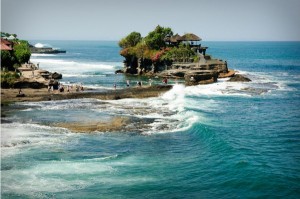 Is one of the most popular places in Bali. Located in Tabanan, about 20 km from Denpasar. It is also called Tanah Let which means ancient land and also Tanah Lod, which means the land to the south. Tanah Lot is claimed to be the work of the 15th-century priest Nirartha. He's succeded to spread Hindu religion to Balinese people, but the ruler of Tanah Lot, Bendesa Beraben, was envy of Nirartha because his followers leave him one by one to follow Nirartha. Bendesa Beraben asked him to leave Tanah Lot. Nirartha was agree and before he left, with his power he moved a big cliff to the middle of the shore and built a temple there. He also change his scarf into a snake to guard the temple. These snake is still there until now, it's a type of snake that have a flat tail like a fish, have black and yellow stripe, and have poison 3 times stronger than a cobra. Sunset is the best time to visit Tanah lot, when the golden red skies frame the temple and waves crash into the rocks.
Dreamland Beach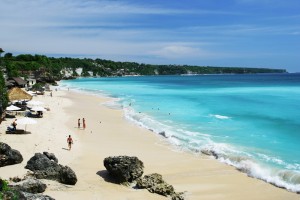 If you want to visit Dreamland, don't forget also to visit Garuda Wisnu Kencana and have your lunch or Dinner in Mak Jo. Dreamland beach is located in South Bali, in the area called Pecatu, around 30 minutes from Kuta Beach. This beach has white sand, blue sea and surrounded by high cliffs and big reef. It's a good place for enjoying sunset and for surfing. The name of "Dreamland" comes from a big residence project that want to make this place also to become a big tourism place in southeast Asia. The project was failed, but in the other side there are lot of people that have a hope to change their profession from farmer into other business in tourism. For that reason this place was called as Dreamland (tanah impian). (Do you still remember our post about this restaurant?).
Uluwatu Temple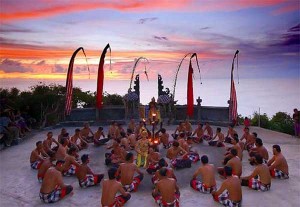 Uluwatu Temple is one of the beautiful temple in Bali located beside the sea. It was built in the 11th century and meant to protect Bali from evil spirit. This temple is located in Pecatu (same area like Dreamland beach) and at an altitude of 97 meters above sea level. This place is also known for the beach below that is often used as a place for surfing; even international events are often held here. The temple is inhabited by large number of monkeys, so you need to be careful, it's better to keep your belongings (jewelry, sunglasses, wallet) inside your bag. There is also a Balinese Dance performance here (Kecak Dance), everyday between 6pm – 7pm. It's a very nice performance, because you can watch it during the sunset. So, if you are planning to visit Pecatu, first you can enjoy a beautiful beach at Dreamland and then enjoy the sunset in Uluwatu.
Check out this video of a Kecak Dance in Uluwatu Temple.
Tampak Siring Temple – Tirtha Empul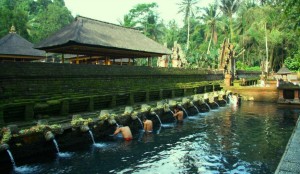 It is located in Tampak Siring village, about 39 km to the east of Denpasar City. Tirtha Empul was called Tirtha ri air hampul and the name was changed later into Tirtha Hampul and finally changed into Tirtha Empul.  Tirtha ri air hampul means that the "holy water is rising" or the "holy pond where the water is raising". For this reason this temple is very famous, because  Balinese people believe that in this place they can purify themselves from the bad influences. So, in this temple you can discover the traditional showers sourced from the springs. The water that comes out from the shower is believed to eliminate all kind of diseases, including adverse effect in human life and give the new holy spirit. This place has been appointed as one of the tourist destinations in Bali, so it is visited everyday by tourists but also local people.
Thank you for visiting our website. We love to hear from you, so please leave your comment down bellow.
Don't forget to like us on Facebook and follow us on Instagram, or Google+ so you will receive a notification of our new post. If you want to share any good recipe or information, do not hesitate to write to us. We will publish it on behalf of your name.
Enjoy your day, and take care! We'll see you again in our next post. Tetap di Ada Indonesia…see you soon!