Thai Botanico – Gourmet Thai Restaurant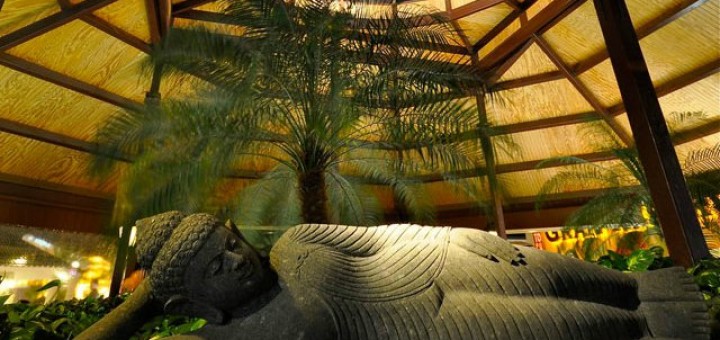 Hola todos….!! How's your day? We hope that everything is going well
I think summer is passing very fast. It's already a week that I didn't feel hot and sweating. Hmmm…don't think that I'm complaining. You all know that I don't like sun & sweating. It is a problem of most of Asian girl, isn't it?. When I moved to Tenerife, I saw a lot of people that really love to stay under the sun, everywhere (not only on the beach, but also on the top of a hotel or apartment. I was wondering why these people can stay for such a long time without feeling bored or tired.
Honestly for me, I cannot stay under the sun for too long, because after that I will feel sick (headache or nauseous). Sometimes when I need to walk under the sun and it's really hot, I feel that I want to use my umbrella (in fact it's always in my bag), but my husband always said no. He said that I will make him feel embarrased. =( So, as a good wife, I decided to follow my husband. A little bit of sacrifice it's ok, right? =p
OK..enough talking about me and the lovely sun =). Thinking about Asia, here in Tenerife, we have some Thailand Restaurant that located in some different places. Today we want to share one of them. The name of this restaurant is:
Thai Botanico – Gourmet Thai Restaurant
1st Floor Commercial Centre Safari
Avenida Las Americas, 5 Arona 38660 Tenerife
Telp. +34 922 797 759
Opening Time:
Monday-Saturday 13.30 – 23.30
Sunday 18.30 – 23.00
Thai Botanico has a stunning botanical dining terrace that will make you feel like you're in Thailand. They also decorate the restaurant with authentic imported artefacts from Eastern region of Thailand.
If you are tired after shopping in C.C. Safari, you can have a meal here. The food and the ambience will make you feel refresh.Thai Botanico is located in a very strategic touristic place. Surrounding by a lot of shops, bar, and near by the sea (around 5 minutes walk). The taste of the food is already adapted with the european tongue, so it's not so spicy. But if you're Asian and you like spicy food, you can ask the waiters for extra chili on the side.
Thank you for visiting our website. We love to hear from you, so please leave your comment down bellow.
Don't forget to like us on Facebook and follow us on Instagram, or Google+ so you will receive a notification of our new post. If you want to share any good recipe or information, do not hesitate to write to us. We will publish it on behalf of your name.
Have a beautiful day, and take care! We'll see you again in our next post. Tetap di Ada Indonesia…see you soon!