Polenta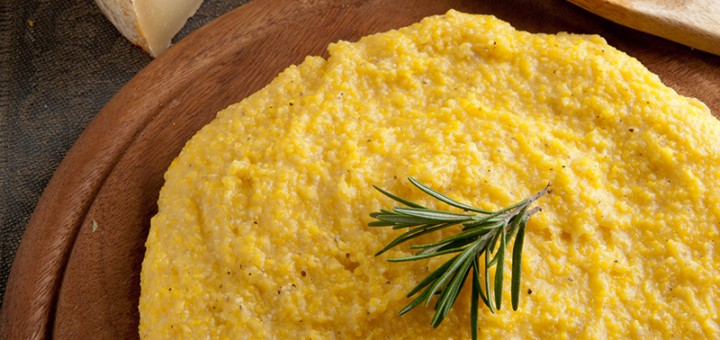 Hi guys! See you again in our website Ada Indonesia.
Have you check our instagram (@adaindonesia)? If you haven't check it, please visit. We are posting also some picture of Ada Indonesia there.
Today I want to share a simple recipe that goes well with the recipe that I also shared to you (Keema Matar). Some kind of fusion between Italian food and Indian Food. Sounds strange maybe for Italian people, but I guarantee that you will enjoy it so much.
This is the recipe of Polenta. Historically, polenta was served as a peasant food in North America and Europe, but it's commonly eaten since Roman times. You can eat Polenta as a substitute of pasta/rice/bread, so of course it's nice to eat with bolognaise sauce for example. In making Polenta you need a little bit of patience and elbow grease, so let's think that you can have some exercise while cooking. =)
Let's get cooking!
Polenta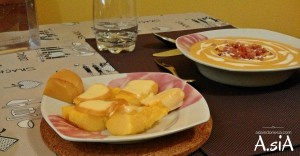 Preparations: 2 minutes
Cooking Time: 40 minutes
Serve: 4 persons
Ingredients:
250 gr – corn flour (for polenta)
1 ltr – water
1 tbsp – extra virgin olive oil
1 tbsp – coarse salt
Instructions:
Pour the water into heavy bottom pot and bring to a boil.
When it's boil add coarse salt and olive oil, then add slowly add the corn flour while whisking it with balloon whisk (to avoid any lump).
When it's well mixed, change the balloon whisk into wooden spoon, and keep in mind to mix it in the same direction.
Keep mixing every 5 minute and if you think the polenta become hard and difficult to stir, you can add a little bit of hot water.
When the cooking time is finish, you can keep cooking around 20 minutes more (because Italian people said, "the longer you cook polenta, the better the taste). But after 40 minutes of cooking you can turn off the fire, and it's ready to serve.
You can eat Polenta while it's hot or even cold. It depends on your liking. When it's cold it become a little bit hard and compact, so you can slice it into the size that you want (like it shows in the picture)Don't forget to try Polenta with Keema Matar. You can find the recipe here in Ada Indonesia.
Thank you for visiting our website. We love to hear from you, so please leave your comment down bellow.
Don't forget to like us on Facebook and follow us on Instagram, or Google+, subscribe to our channel in YouTube A.siaVlog so you will receive a notification of our new post. If you want to share any good recipe or information, do not hesitate to write to us. We will publish it on behalf of your name.
Enjoy this recipe, and take care! We'll see you again in our next post. Tetap di Ada Indonesia…see you soon!